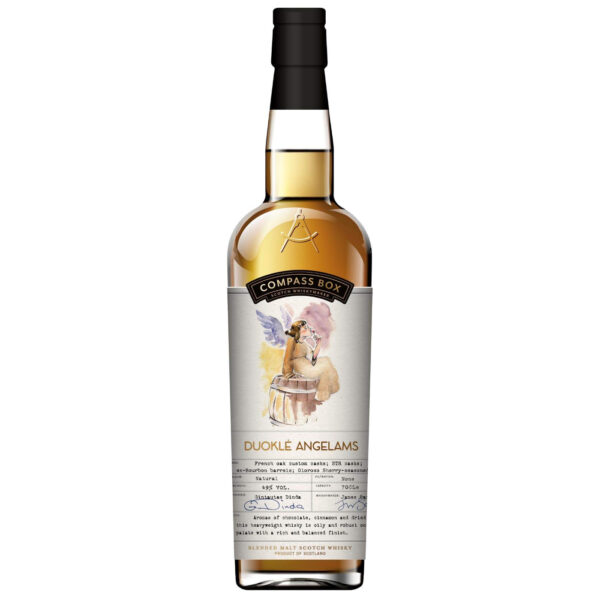 Compass Box Duoklė Angelams Limited Edition
Everything is possible! Compass Box is probably the most famous and trendy whisky blending house today. Their contribution to the development of scotch whisky is unquestionable. We are very excited that we finally have a whisky made together with this great company! It all started as a dream a long time ago, and it is still difficult to believe that it became true.
Compass Box Duoklė Angelams Limited Edition is the largest and most challenging project of 2021 at our company. It is an investment into something more than just a product. It is an investment into a new story, that is probably best since the start of our company. With this whisky, we are on the international whisky scene once more. The logo of Duoklė Angelams is now traveling across the world on the labels of the 1494 bottles.
Here is what Compass Box has to say about the whisky: "We relish forging new connections and discovering the whisky preferences of countries where Compass Box bottles are shared and enjoyed.
The opportunity arose to create a whisky for our long-time supporters at Duoklė Angelams in Vilnius, Lithuania. They told us that a rich, spicy and peat-free malt whisky should suit the Lithuanian palate perfectly.
This exclusive starts with Highland Malt Blend, aged custom French oak casks. We have added whisky drawn from an Oloroso-seasoned butt, and a parcel from the Linkwood Distillery further matured in STR (shaved, toaster and recharred) wine casks for generous oak flavours and intense notes of black cherry. An oily and creamy malt whisky, aged in Bourbon barrels completes the composition.
A close cousin in style to previous limited edition Spice Tree Extravaganza, this is sturdy, syrupy and seriously delicious, and an excellent foil to Baltic winter's evening.
Free shipping in LT
In EU, free with orders for 100€ and above
Click & Collect
Buy online - collect in store